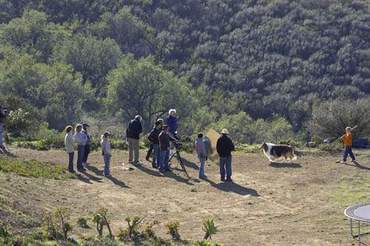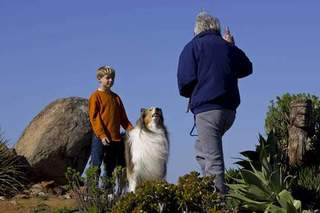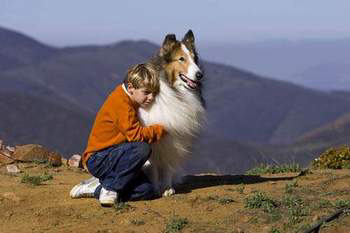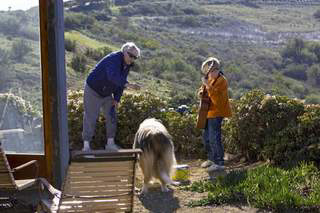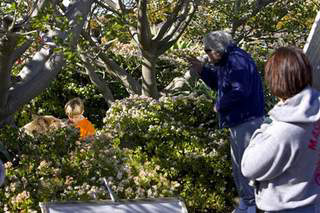 PUBLIC SERVICE – LADDIE STYLE

From the days when Rudd Weatherwax appeared in early movies as an extra and first coached his little terrier in a

scene, it could be said that Weatherwax-trained dogs have been providing a service to the audiences of the world.

Whether the dogs delivered messages, brought newspapers

in a house, pointed out clues to mysteries that humans couldn't figure out, saved kids and adults and kittens and cowardly lions, or just made us feel loved, the tradition of service has been strongly imbued in the Weatherwax lexicon

of films, television, and entertainment industry working dogs.

In that vein, Laddie's appearance in several upcoming Public Service Announcements, on behalf of pro-pet legislation and

pro-animal initiatives coming from concerned citizen groups, is consistent with the roles that Weatherwax-trained dogs have

taken. In particular, Bob has been very concerned about the future of dogs – and cats – as it pertains to the difficult world of

the shelter system. Too many pets are euthanized unnecessarily; they could easily be trained or rehabilitated or made far more comfortable and healthy if the shelter system was overhauled and given a more humane mission. The economy of the situation does not add up; euthanasia is not more cost-effective than public education. Helping people understand what it takes to be a responsible pet owner would change the numbers of pets brought into the system. And for those who have no

other choice, giving the pets more time to be discovered by the right family isn't asking that much.

The concept of the No-Kill shelter has moved beyond the drawing board. Several successful examples exist all around the United States (and in other nations too). It can be done, and the way to accomplish the transitions and reestablish shelter missions has been pragmatically laid out in Nathan Winograd's book entitled Redemption.

To send the simple message about No-Kill to people, organizations,

clubs, agencies, committees, councils, senates, etc., several

PSAs will be made available through the auspices of

We The People for Pets and Dearheart Productions, overseen by Diane Amble. An incredible crew of Hollywood professionals committed their time and expertise to the filming of the first set, brought together and headed up by director/writer Eva Saks.

The day of filming was a miracle in itself with perfect weather

in a truly gorgeous natural setting in the mountains of

Malibu, California.  Assembled along with the production

crew – from cameras, lighting, props and the all-important

craft services (FOOD!) – were the stars of the PSA.

Headlining the dogs was our Laddie, and playing

supporting parts were Throttle (Skye terrier mix),

Sheez All That (Pomeranian), Maxwell, (Golden retriever),

Tyra (Boxer), Tyco (Shih-Tzu-Poo). Remy and Gabrielino

represented the friendly cats.

You can't have pets without their favorite kids! Headlining the human stars was Andrew Angarano, whose best friend of the day was Laddie. David Burrus, Alina Carranza, and

Ashley Curtis had scenes with the other dogs, while

Tiffany Silverstein was the resident cat lover.

We were fortunate enough to schedule the presence of a special film crew in conjunction with the PSA shoot. England's

ITV has been working on a seven-part documentary all about dogs as they evolved through time up to the present. The crew

has been filming all over the world and wanted to include a segment on the working dog in the entertainment industry. This

first PSA was shot to accommodate the ITV crew, director Ian Leese, and narrator Martin Clunes, a well-known British star.

The ITV crew shadowed the PSA crew from scene to scene, culminating in a one-on-one interview between Martin and Bob. Actually it was a one-on two, because Laddie sat with Bob and barked his responses to some of Martin's questions. The

documentary will be shown in the UK. Whether it is eventually available in the USA is unknown at this time. It was an honor to be asked to be a part of this documentary and great fun to do it.

The PSA is currently in post-production and should be ready for

distribution very soon. We're eager to spread the word about No-Kill

shelters; this PSA along with others delivers a simple heartwarming

message that sets the stage for the serious work of converting old,

inefficient, unnecessarily cruel policies and practices into a system

that saves lives, strengthens the human/animal bond, and is

cost-effective.

We want these important PSAs to be seen by a wide audience. Let us know if a group you belong to would like

to help in this cause. People reaching out to people will help us reach out to our dogs and cats and other animal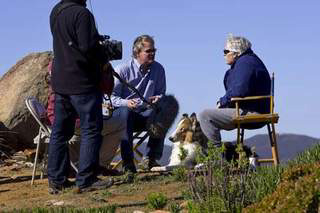 Photos are copyrighted, and appear courtesy of photographers Paul Levy and Marc Watson

See the Out Takes page for more!